Oh my. What a day!
Let nobody be in any doubt that Final Cut Pro X has arrived. And I'm not sure that anything will ever be quite the same again.
Even at this early stage, I think that it's safe to say that FCP X is a phenomenon (my apologies to those still grieving the loss of Shake, I didn't mean to stir bad memories). I certainly haven't experienced anything quite like it before — perhaps the opening weekend of a big event movie, or ticket sales for a large stadium tour, or dare I say it, those lines we join around Apple Stores whenever a new iOS device is released. It might be difficult to gain proper perspective from inside the bubble, because I don't actually believe FCP has the same mass appeal as the iPhone, but I do think something pretty significant happened today.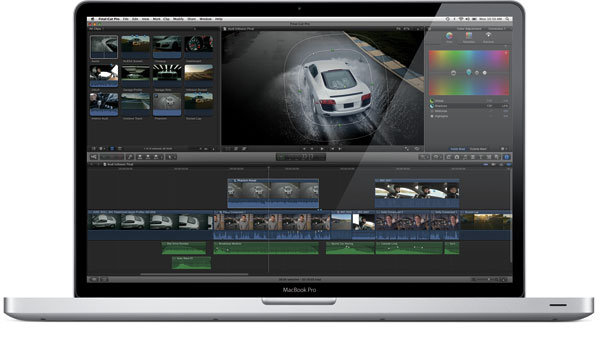 Courtesy of Apple
Alongside the initial rush to the Mac App Store to get the software, there's been a flurry of "first look" reviews and Tweets galore. The thirst for information seems unprecedented, the Ripple Training servers appear to be groaning heavily under the volume of downloads and poor Larry Jordan had his server fall over completely at one point. Apparently he received 1.2 million requests in the first 3 hours following the release. Given that Apple were talking about an install base of 2 million in April, that's really something else!
Now I haven't yet used Final Cut Pro X enough to pass judgement and I promised myself that I would take my time. However as I sit here musing about the events of the day and reading the ongoing discourse around what might be right or wrong with the software, I can't help wondering if we might be missing something of the larger picture. For example, a lot of the commentary has referred to the paucity of tape options in FCP X and how this confirms every suspicion we ever had about the lack of "pro" features. Well we've all read Philip Hodgetts on the death of tape (if you haven't, you should), but even as we discuss how Final Cut Pro X could be the NLE for the next 10 years, it strikes me that what we're really witnessing could be the end of broadcast television…
Earlier this week I had the good fortune of chatting with an editor who's just wrapping up a video project to launch a new a high performance car. This advertisement had a budget of £1.5 million, but will never show on television, it's been made specifically for the web. The thing is, this isn't unusual, it's rapidly becoming the norm. That conversation has helped put today's events in some kind of perspective. Will we look back at this day as the moment a really big company made a clear signal of intent regarding the future of video content?
I may live to regret such grandiose thoughts, but as we move into the Morning After, I half expect to see a counter stamped at the bottom of the screen: Day Two.
Tags: FCP X