It's difficult to know where to begin with the subject of media libraries. The topic is huge. For film and video producers, it's perhaps one of the most significant matters we have to consider. It's such a big issue, I don't think it's something I can, or should, attempt to address in a single post. So be warned, I suspect that this will become a theme I'll return to again and again and again.
Creating a back-up of your data is one thing, we can all copy data and stockpile drives, it's creating a searchable archive and keeping your data available that's the real trick. Though often a much larger, more involved operation, creating a searchable library will extend the life of your work. As Nick from Object Matrix is wont to say, "if you can't find it, you haven't got it." (If Nick ever tries this line on you, tell him from me that he owes you a drink. Though if you're glancing sideways at the mountain of drives you've accumulated, I suspect you already know it's time to act and you might want to consider buying him one…)
Before we go any further, it might be worth taking a moment to provide some context to help you understand how this all started for me and why I feel the way I do. Moving pictures are my passion. It's been that way for as long as I can remember. (Given that you're reading this post, chances are you've also spent a good many hours/days/weeks/years in darkened rooms, gazing up at the silver screen so you can appreciate what I'm talking about.) I chose to study film theory at university because I wanted to learn not just about how films are made, but the history of the medium, the development of different forms and how cinema affects our lives. As a young scholar there was a devastating moment where I discovered that what we understand as early film is such a small percentage of all the films that were made. These missing films have been "lost forever". While we can all enjoy stories about rescued episodes of Doctor Who and the like, the reality is quite bleak. Moving forward the onus is on us to take the steps necessary to preserve our moving picture heritage.
Entities like the BBC Archive are one thing, but I have conversations about the long-term preservation of media with clients of all shapes and sizes. If our stories are to live on, it's absolutely vital we consider how digital media assets are stored and accessed. There are tools out there, tried and true solutions, but the cost of establishing and maintaining a comprehensive and secure catalogue can be prohibitive. Indeed Larry Jordan recently lamented the lack of an affordable, user-friendly archive for smaller independent production companies. It becomes especially difficult to raise this matter in meetings when cost is the obstacle. As much as I might like to believe that expense is relative, the stark reality is that some companies are not in a position to make the necessary investment. Instead they gamble on the ubiquitous drive-on-the-shelf method. Only today I met a fellow who told me he'd think about an archive "in the future". When I explained to him that actually it would be more prudent to address the issue now before he's faced with a large amount of media and limited resources to process it all. He took my point, but may not act on it. It may seem trite, but when it comes to archives, it really is important to start as you mean to go on!
While we can discuss the merits and vagaries of different LTO, disk or Cloud based solutions for the media industry, we ought to acknowledge that the problem really extends a lot further. That is to say for many of us the situation permeates our home lives too. I'm sure I'm not the only one of us to have had a chat with family members about how to best preserve and manage photos or home movies. And if our mothers are asking, I think we can all agree the issue is pervasive!
So what can we do? And how does all this relate to Final Cut Pro X?
When it comes to the next version of FCP, Philip Hodgetts makes a convincing argument about why metadata is the key ingredient to help us establish and organise media libraries. More recently Alex Gollner has presented his theories about how FCP X could store information in a searchable, sharable database. I can't help thinking those who have experience of the "digital lifestyle" applications have a bit of a jump on those of us who've only worked with Final Cut Pro (as we know it today). I don't just mean iMovie editors either, for example folks who use iPhoto to organise and manage their picture libraries already understand about metadata tagging (date, location and face detection). They're likely to have experience of sifting and sorting in a variety of ways and of using Smart Albums to create dynamic collections. As I've written before, from watching the SuperMeet Sneak Peek it very much looks like variations of these tools have been integrated into FCP X.1
I know too many organisations that have valuable footage bundled into a cupboard or strewn across portable hard drives. Whenever someone is tasked with finding a specific clip, the mission may well be delivered on exploding tape. But if you take the time to tag your media with appropriate keywords, it becomes so much easier to find the footage you're looking for, not just when you need it for the current edit, but in the future too. Metadata in this context becomes about extending the life of your work, keeping your media accessible and creating additional value.
A library isn't just about the media we will create however, if we're to avoid a repeating past mistakes, it ought to include the media we've already acquired. It's on this point that I struggle most with the "tape is dead" argument. If we look to the past of video production it involves huge amounts of tape. It's not just the broadcasters or established media organisations, this issue effects everyone with a home movie collection. Philip may contend, "[d]ropping old technology and moving to new" is in the DNA at Apple, but I wholly disagree that tape capture offers no "benefit… [to] the vast majority of FCP users in 2012." Given the stakes involved, the shared heritage that would be otherwise jeopardised, we need the ways and means to work with tape. When I look at iLife those applications seem to be designed to embrace our human tendencies and help us find more efficient, elegant and fun ways to be creative, to manage our media and protect the files we value most. I'll be intrigued to see if FCP X is disposed to take us down a similar path next month.
1. Those familiar with iPhoto will have also encountered a button with the magic wand icon before…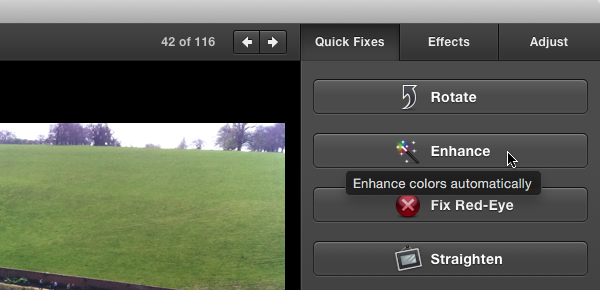 [Disclaimer: I have no idea whether the magic wand visible in the FCP X Sneak Peek also means "enhance."]
Tags: FCP X